My work begins with a love of color and paint and their many surprises. Josef Albers' theory of color dynamics shapes my use of paint, print and collage. Color is a multi-faceted value that stretches beyond paint, canvas, paper, and wood, to invent a unique world of dimension. The depth that I seek to create in my work is a metaphor for what occurs in my conscious and unconscious inner life and in the inscrutable outside world.
Layers of paint, medium, collage, line, grid variants, and poetry's text, infuse mark with memory. The incantation of hand-forged repeated shapes reveal events on and underneath the surface. Non-linear narratives celebrate color, sensuality and light in a search for spiritual, psychological, and physical depth. Color, shape, texture, and line describe the past and the present moment.
I draw inspiration from the light and landscape where I live--green Northwest, blue New England, orange-yellow Southwest, and lavender travels to Europe and Southeast Asia. Layers of personal history and world events weave into my consciousness and filter into form.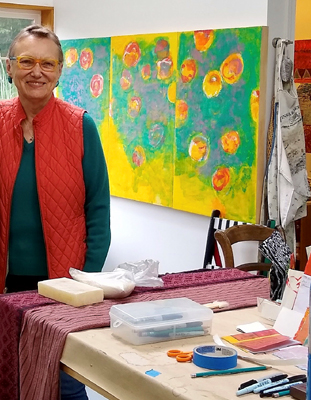 Levitation I
15" x 16 1/2"
Encaustic, collage/wood, 2006